Til the End of Time is Taking Forever
2006/08/07 10:57 PM Filed in:
Games
Star Ocean: Til the End of Time
is taking Forever!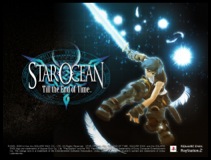 I spend most of my game playing time playing board games or card games. To me, the fun in game playing is the social aspect of playing with people. I do play some computer console games, however. When I was younger, many of the games I played on my Commodore 64 were dexterity games, like
Jumpman
and
Wizard
. They were fun at the time.
Now, I don't have the reflexes or inclination to play such games, and am more interested in thinking about what to do rather than
mashing away at the X button
. Thus, most of my recent console games are Role Playing Games, or
RPGs
. These games take quite a bit of time (but not so much button mashing), on the order of 40-60 hours, so understandably not many of them get played in any one year. I do have a real life after all.
I've recently gone back to a game I put aside about a year ago, called
Star Ocean: Til the End of Time
. I was stuck and got tired of it. Star Ocean TTEOT is a monster of an RPG on two PS2 discs (and that's not just video on those two discs) with an epic-scope soundtrack covering 5 CDs worth of music! I didn't know what I was getting into when I started it, but now, 40-some hours into the game, I realize that I'm probably not even halfway through! Ack!
This length is a distinction of the games made by
triAce
. Their first two Star Ocean games, made for the
Enix
empire, were also punishingly long, though I only learned this recently. So, you have to have a certain amount of almost pathological tenacity to play these games.
The problem is that the game has great characters and a compelling storyline, so it's not that easy to abandon.
So now what do I do? Do I soldier on knowing what is in front of me or walk away from my 40 hour investment? It's certainly no
Zork
.
Well, for now I'll turn off the game. and go make some
tea
.